This article was published on Lisbon by Time Out newspaper, January 2023 edition.
There are those who will highlight his bad temper, who remember him from television when he was one of the faces of MasterChef Portugal, but not so many would have tasted his dishes, being that Miguel Rocha Vieira made his career practically outside the country. Coming to Fortaleza do Guincho in 2015 could have dictated his return, but three years later he was back in Budapest full time, with the added honour of being the only Portuguese chef with three Michelin stars (Fortaleza do Guincho in Cascais, Costes and Costes Downtown in Budapest). It wasn't that long ago, but it already feels like another lifetime. José Avillez is now the Portuguese chef with the most Michelin stars (he has two at Belcanto, one at Encanto and one at Tasca in Dubai), while Miguel Rocha Vieira has stripped himself of everything in order to get back to basics. Hungary is part of his past. The present is in Lisbon, more specifically at Doca da Marinha, where he has three kiosks, is about to open a restaurant and has a space for events.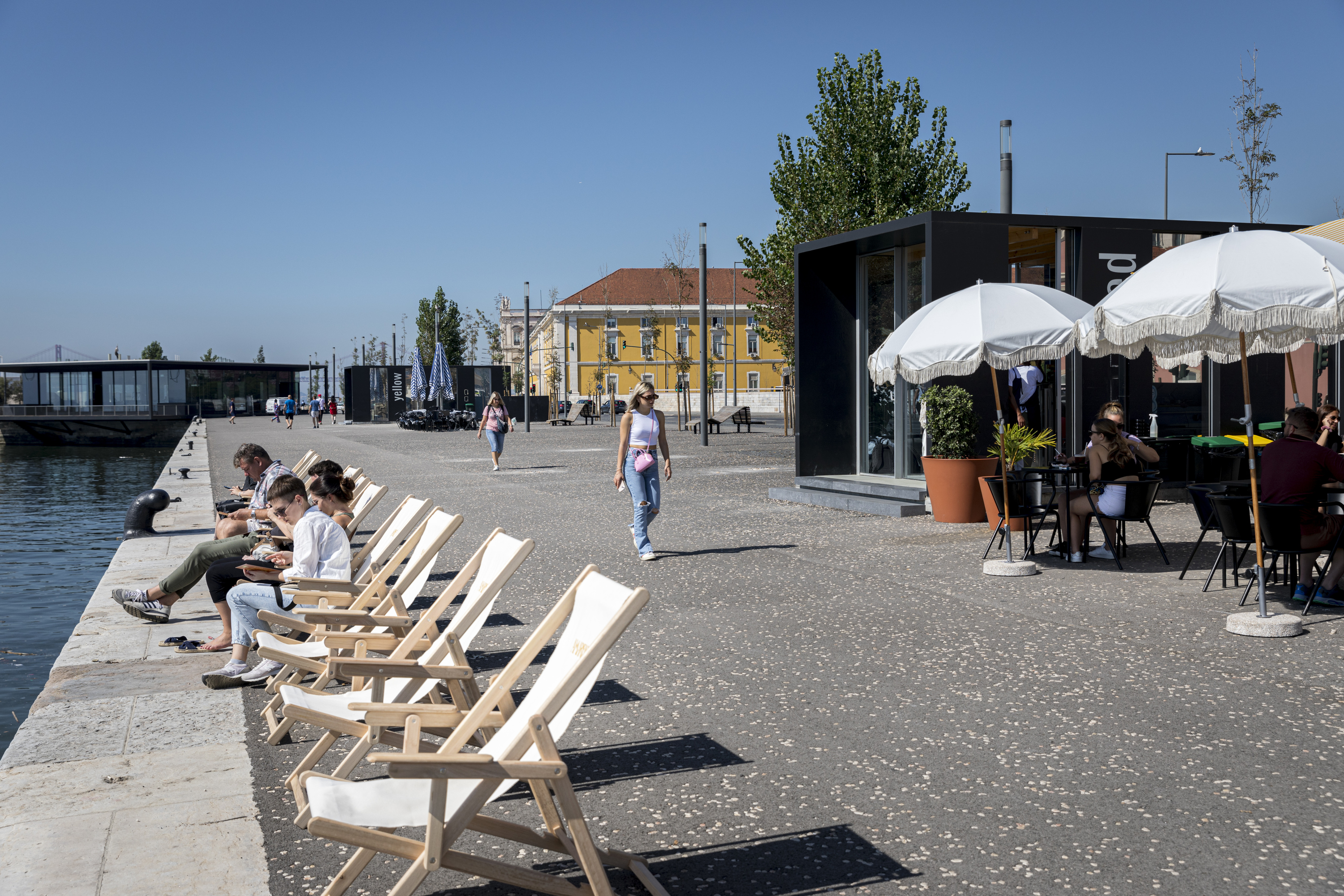 "When I came to Guincho I thought: I'm not moving from here. It's my place, I'm home. I thought I would never leave, but life takes many turns and the truth is that after three years I went back to Budapest and it was clear that if I was going to leave it would have to be for something serious," he says, relaxing on the terrace of one of the kiosks that opened in September 2022.
"One day, I got a call to come and see a project in Lisbon. I could not say no to this. It's more than opening a restaurant, much more. I enjoy the challenge of energising an area that future generations will be able to enjoy."
The chef is not shy in speaking his mind, as he knows the exact scale of the project he is undertaking. "We're talking about an area in the centre of Lisbon that many people don't know about, and that includes natives of the city. In my opinion, there is huge potential." The area he is referring to is the Doca da Marinha, which was reborn as part of the riverside renovations that returned the South and Southeast Station to the city. "People now have to come from Baixa, arrive at Praça do Comércio and turn right. I have no doubt that from the moment there's noise coming from here, they'll start moving over here too."
And if Rocha Vieira is a big name, the Portuguese architect Carrilho da Graça, who designed the kiosks and the restaurant - which is about to open - and the artist Julião Sarmento, who left one of his last works here before he died, a set of backlit paintings (blue, yellow and red), visible on one side of each kiosk, don't fall short either. "We want to bring the Tagus River closer to people, we want to do something fun, show that good cooking doesn't have to be a three-hour sit-down dinner with white gloves and tablecloths. We want to reach everyone."
Fine dining seems to have been left behind for now, which is also the result of disenchantment. "From year to year, things stop making sense. You put it on a scale, you evaluate it, you make comparisons and you don't hit the nail on the head, as they say. At least the way I see it. It is not meant as criticising anyone, neither of colleagues nor of guides. I think everyone has their own space, mine is to disconnect from that," he says.
"I want to reinvent myself, it's now been 20 years with Michelin stars, with nonsense that doesn't make much sense nowadays."
The kiosks could not, therefore, be a better antithesis of that past. A place without rules or prejudices. A place to eat and drink. With music, parties and whatever else you can do. The first one (Red), further away from the station, is more focused on "breakfast, brunch, healthy, vegetarian."The one in the middle (Yellow) has a menu of "Portuguese sharing snacks." Blue is "a meeting point, with shellfish, food from the sea, from the river, champagne, sparkling wine and natural wines. The Tagus is something I want to discover and try to bring to the table," he says.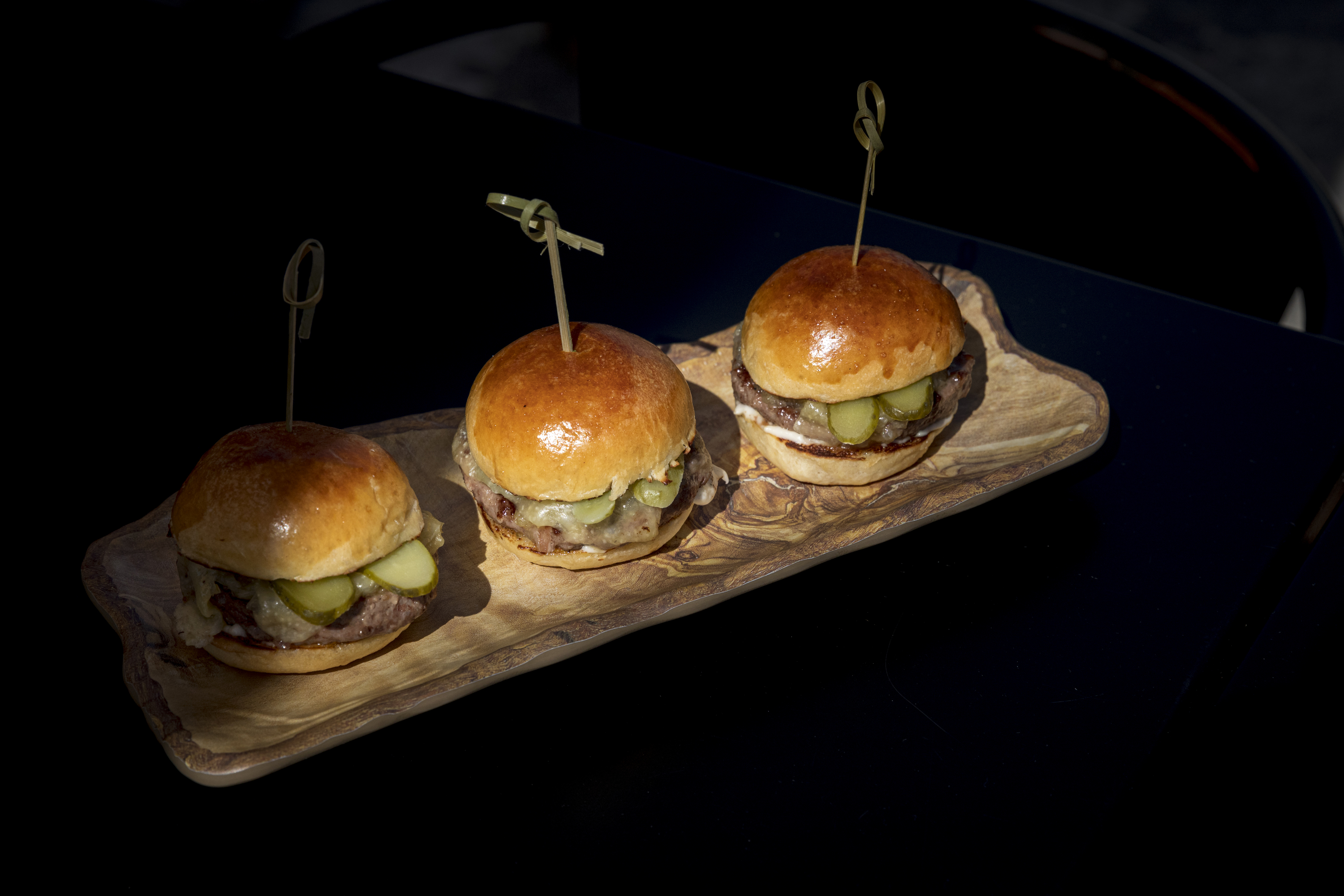 And we are still missing the restaurant. After having announced the opening for late summer 2022, Rocha Vieira was forced to delay his plans. The name of the restaurant will only be announced this month, in an official presentation with the Lisbon City Council. One thing is for sure: "It's not Miguel's signature restaurant. It's going to work à la carte with dishes to share, things to eat with your hand," he reveals, warning that he doesn't want anyone intimidated there. "The restaurant even has a playful side. On Thursdays, Fridays and Saturdays we will have music and be open until four in the morning," he adds.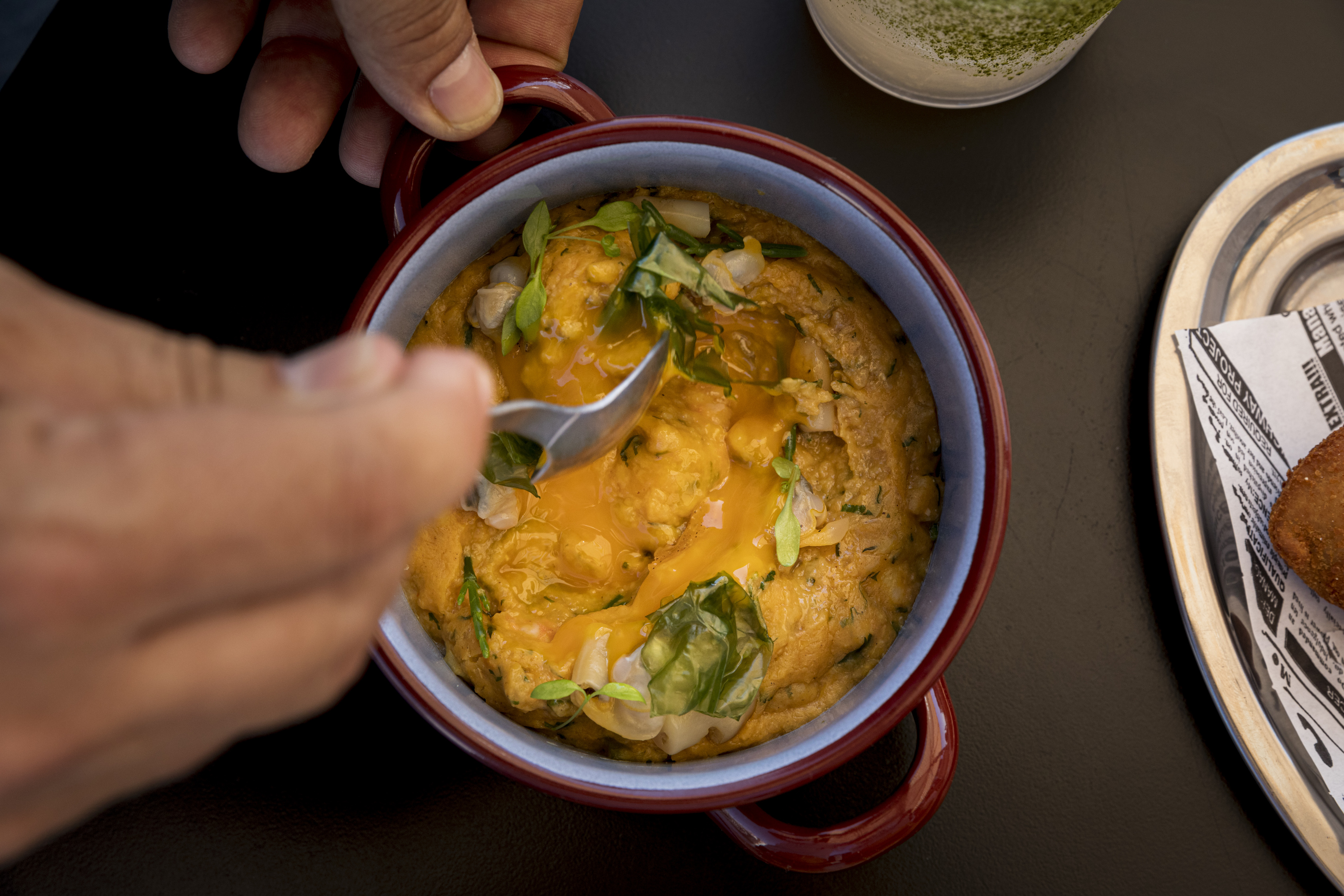 Entirely glass-fronted, right on the river and seating 130, there is a scenic side to the restaurant with an open kitchen that can be seen from the street. The idea is not only to arouse curiosity, but to allow the team to shine. A topic close to his heart today, after an excerpt from a major television interview went viral for arguing that for too long staff were not valued in the restaurant industry, which is why he believes the sector is in crisis today and lacking labour. "I have never done anything on a professional level with an impact on the Internet like that had. Not photos with Ronaldo, with Hollywood stars, Michelin stars... Twitter, actually, was just a silly thing," he recalls. "It's funny, if we all share the same idea, how come nobody ever brought this up? And if we all share the same idea, now that you've poked the wound it should be easier to fix, isn't it?"
The response is not immediate. Or the question is almost rhetorical, were it not for the complexity of the problem: "The idea I have, from the feedback I've had, is that everything is solved by raising salaries and that was not at all the message I wanted to get across. It is important, no doubt, but for me the key point is valuing people. I want to focus on the service in the room and also do some fun stuff so they all feel part of the team - not like they're here just to serve dishes from a chef who's only screaming." It was like that once upon a time. "I used to be an real animal, in the true sense of the word. I've been changing because I realised that," he confesses, making a mea culpa. "When you look around and you don't have anyone, who's the asshole?"
Doca da Marinha, Av. Infante Dom Henrique (Campo das Cebolas). Yellow: Mon-Sun 9 am to midnight. Blue: Tue-Sat noon to 11 pm